Who doesn't like a rich, indulgent daal packed full of flavour? This delicious daal can be eaten as a side accompaniment or simply on its own to warm you up on a cold evening…..perfect to mop up with one of Riya's naans, chapattis, paratha's or rice. If you make too much, don't worry. You can freeze it in an air tight container to use another day.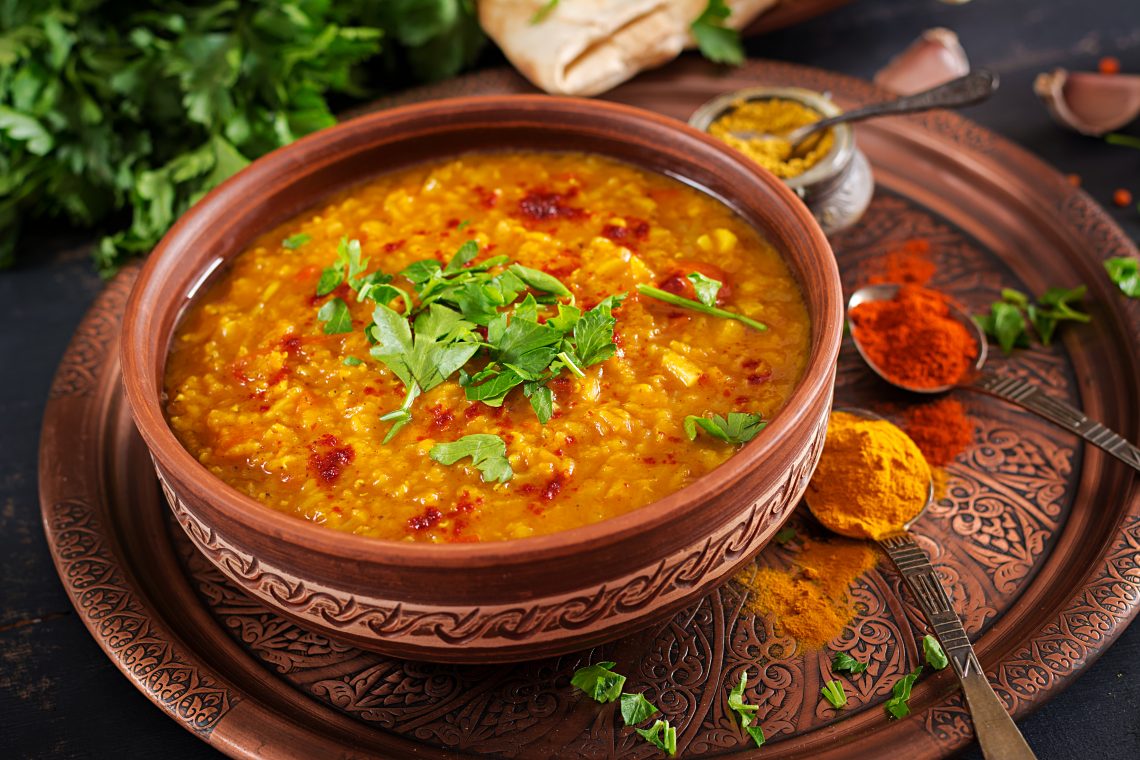 Ingredients
1 cup of Yellow Chana Daal
Quarter cup of orange Masoor Daal
Quarter cup of Yellow Moong Daal
100g of ghee
2 dried red chillies
2 tsp whole cumin seeds (whole Jeera)
1 large cinnamon stick, 3 black cloves, 2 green cardamon pods (Elaichi)
1 onion chopped
4 garlic crushed
1 tsp ginger crushed
2 heaped tsp ground Coriander (Dhania Powder)
1 heaped tsp of ground Cumin (Jeera Powder)
1 tsp of turmeric powder (Haldi)
1 tsp red chilli powder
2 tsp salt
Juice of half a lemon
Half tin of chopped tomatoes
2tsp of tomato puree
Fresh Chopped Coriander
Method.
Firstly mix all 3 daals and wash several times in warm water until the water runs clear
Cook in a pot with 1.5 litres of water for approx. 2 hours and skim off any residue that forms. Alternatively put in a pressure cooker and fill just under half with water. Seal the cooker as normal and cook on high. As soon as it starts whistling turn the heat down and let it whistle for another 15mins. Switch off and leave .
Whichever way the daal is cooked, it must be whole & soft but not mushy
Start off by adding ghee in a non stick pot on a medium heat for about 1 minute
Add dry red chillies, cumin, cinnamon, cloves and cardamom and cook for about 30-40 seconds until you hear them crackle
Then add chopped onions and cook until soft and translucent
After that add garlic & ginger and cook for a further 30 seconds
Then put in the remaining dry spices and cook for a further 20-30 seconds allowing the spices to infuse into the ghee
Add tomatoes (chopped & puree), mix, cover and cook on low for about 5-10 mins ensuring the base does not stick or burn
Go to your cooked daal. You should have enough water just to cover the lentils. If you have too much take some out in a jug and leave aside (you may need this later).
Finally put the cooked daal & lemon juice into the base & stir.
Bring to the boil then turn the heat down & after about 10 mins stir & taste for salt & chilli and add as required.
If the daal is looking a little too thick add some of the water you kept aside from boiling the lentils. If you don't have any, add some hot water
Cook for a further 30 mins on low, stirring occasionally until deliciously creamy
Garnish with fresh chopped coriander & serve as a side dish or enjoy on its own with Riya's Handmade Naan or Basmati rice!