Note this recipe contains ingredients which have traces of nuts, sesame & soy.
A delicious fusion of Asian & Indian flavours! Perfect with Noodles.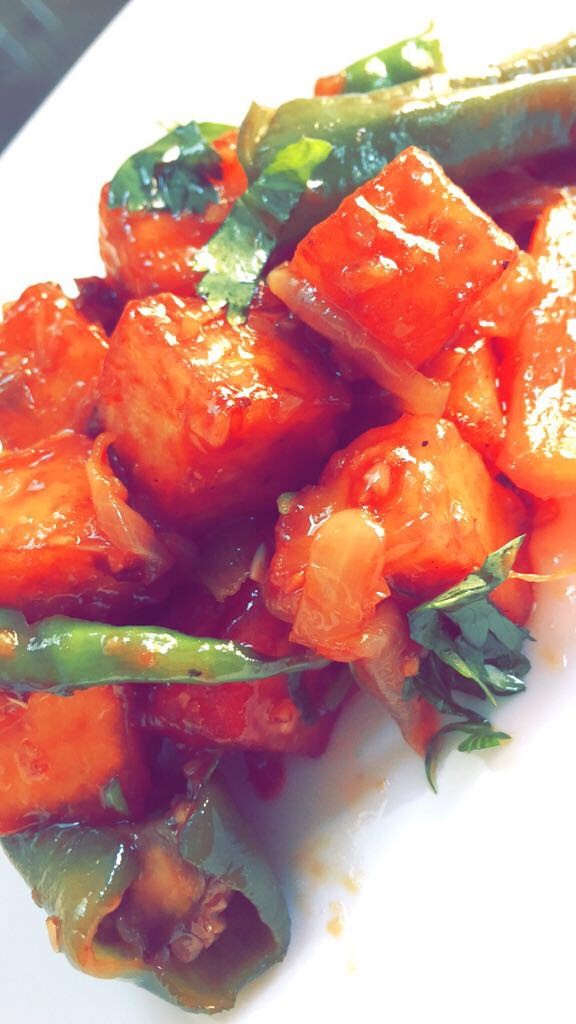 1 x 250g Riya's Diced Paneer.
1 cup of cornflour
1 Capsicum / Pepper cut into chunks
1 x spring or a regular onion sliced
6 cloves of crushed garlic
1″ cube fresh ginger
2-3 sliced green chillies (depending on heat level required)
2 tbsp chinese stir fry oil
4 tbsp of dark soy sauce
2 tbsp Chilli Sauce
1 tbsp Tomato Ketchup
1/2 tsp salt
1 tsp of sesame seeds
1 tbsp fresh chopped coriander for garnishing
Ingredients:
Total Cooking time approx 10 mins.
Method:
Thoroughly coat Riya's Paneer in cornflour & deep fry in hot oil until golden brown. Drain and keep aside.
Heat oil in a large pan, Wok or medium size pot
add sesame seeds and cook for 30 seconds.
Add sliced onions, garlic, ginger & chillies. Cooked on medium heat for 2-3 mins
Add fried paneer & peppers and mix thoroughly
Add all 3 sauces & salt
Mix well, cover & cook for 5 mins on low -med heat.
Garnish with chopped coriander & enjoy with Riya's Naan, Noodles or Rice!